It had been over a year since I had visited India or the Indian jungles. On being back, and at the first opportunity, I planned a visit to Ranthambore Tiger Reserve, arguably one of the most famous tiger reserves of India, and one I hadn't had a chance to visit yet. Thanks to Pratik (from WildChild Safaris), who organizes wildlife trips across India and Africa, and who is an expert when it comes to Ranthambore, I, along with two of my close friends booked two full-day game drives with him in the first week of February 2020. This happened to be my friends' first real experience in the wild, and I was excited to give them a true flavor of the Indian wildlife, something they had been missing out on all this while.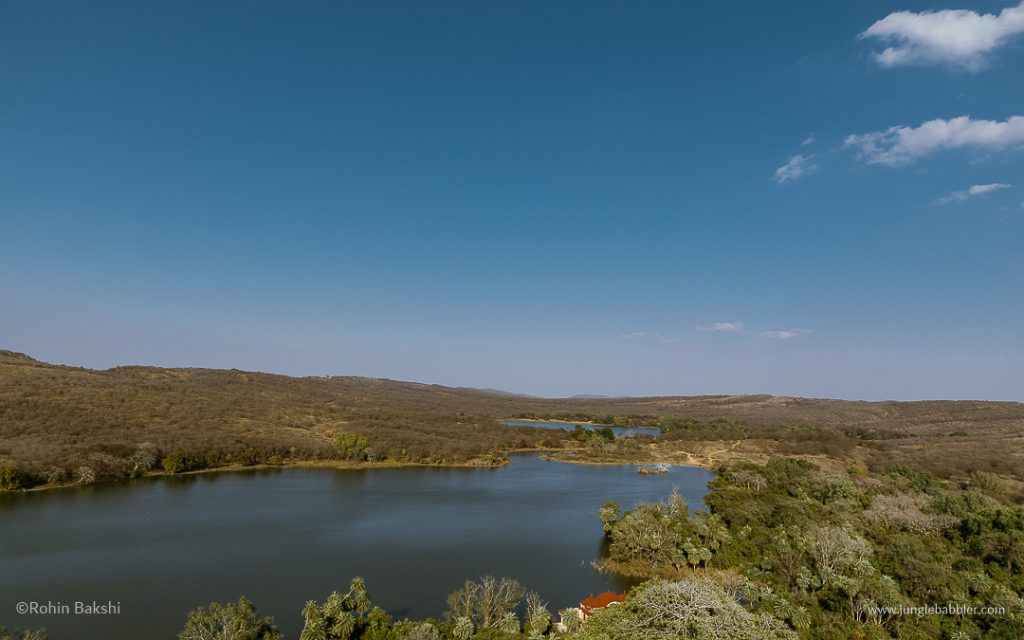 Ranthambore Tiger Reserve is located in the town of Sawai Madhopur in Rajasthan, India. Since becoming a tiger reserve way back in 1973, it has always been a top destination for both domestic and international tourists who wish to see a tiger in the wild. What adds character to the park is the backdrop of the beautiful Ranthambore Fort and historical ruins scattered through the park, making the experience of seeing a Royal Bengal Tiger even more royal.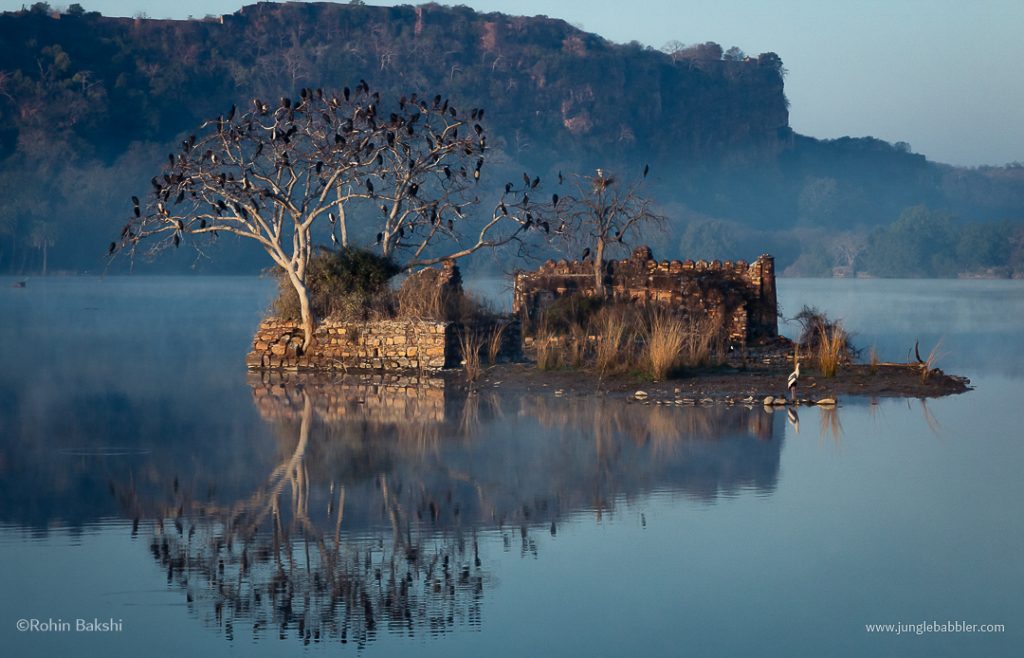 There are tonnes of different ways one can do safaris in the park which is divided into 10 zones. You can do regular morning or evening safaris, a half-day safari or a full-day safari, and in jeeps or canters. It would be a whole different post to talk about this, and here I would like to stick to talking about one of the most amazing experiences I've had in the wild, an experience I'll always remember as if it happened yesterday.
Our first full day safari had almost been a miss except for maybe the last 15 minutes of the almost 12 hours we had spent in the jungle, when we came across a beautiful young male tiger, better known as T-112. We stayed with him till the last second, until we had to rush back to make sure we were out of the park gates within the stipulated time.
We had mixed feelings after day-1. Though we did thoroughly enjoy the beautiful park, and for my friends, it was their first big cat in the wild, but who has ever stopped shooting for the stars when it comes to having expectations, right? And oh boy, did Ranthambore do justice to our expectations on day-2!
The next day, we spent the early morning visiting the hot-spots, stopping our jeep time and again to listen for any sounds of the jungle, as if asking it to give us clues on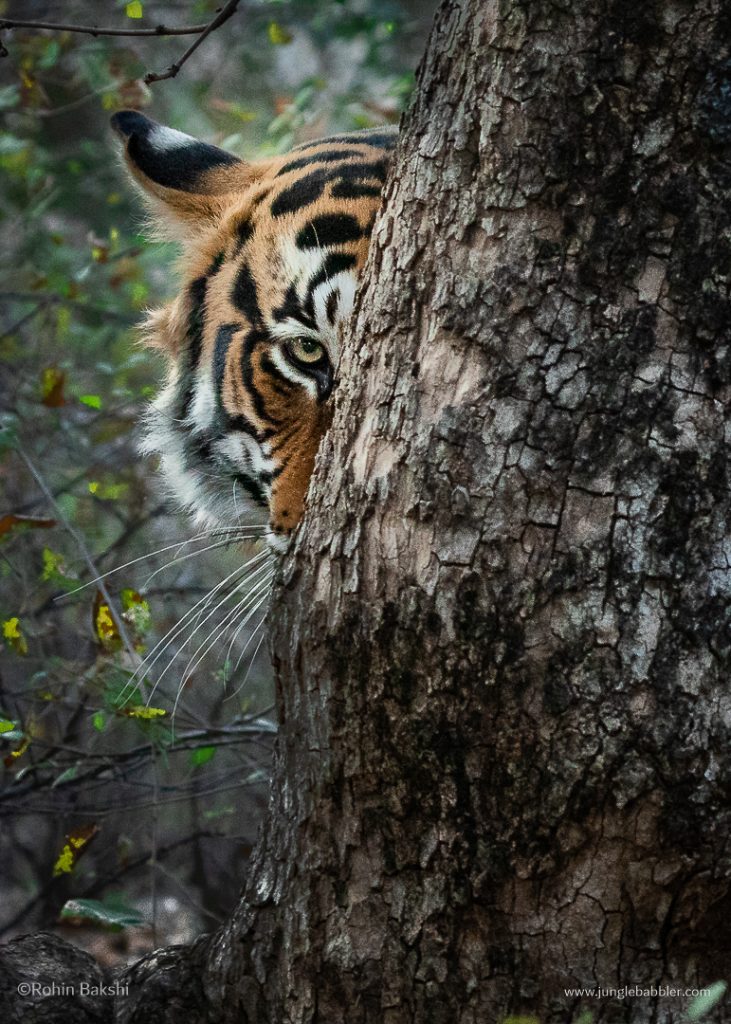 where to go next. There were no alarm-calls, but as we traversed through the thickets of Ranthambore, we reached a congregation of jeeps and canters, and the restlessness was palpable from a distance. On close inspection, we found out that some vehicles had heard alarm-calls from the adjacent Zone 3, but were not allowed there as regular safari vehicles have access to only one zone per safari. This is where the full-day pass is all its worth- we had access to all zones! We quickly unlocked the gate and made our way into this zone.
As we started traversing in the direction told to us by the other guides, we heard it. It wasn't an alarm call, it was unmistakable, it was the roar of a tiger! Let me take a moment here to explain the feeling to people who have never experienced this. Have you ever gone bungy-jumping? Right before you jump, the instructor asks you to move forward on the ledge till half your feet are off it, and you wait for a count-down before you make the jump. In those few moments, which seem way longer than they are, your adrenaline goes hay-wire as you anticipate what's coming next, and how that will be one of your most charged life-experiences. This feeling was EXACTLY the same.
Our eyes frantically scanned through the jungle, till one of us saw a swift moment of a tail, and only seconds later, we all saw her. There she was, a beautiful young sub-adult tigress walking along the shores of Malik Lake. Being a sub-adult, we knew she wouldn't be alone, and that was indeed the case. Only seconds later, her sister walked into my perfect wide-angle camera frame. And then, there were three. The young cubs were joined by their mother, the famous Arrowhead.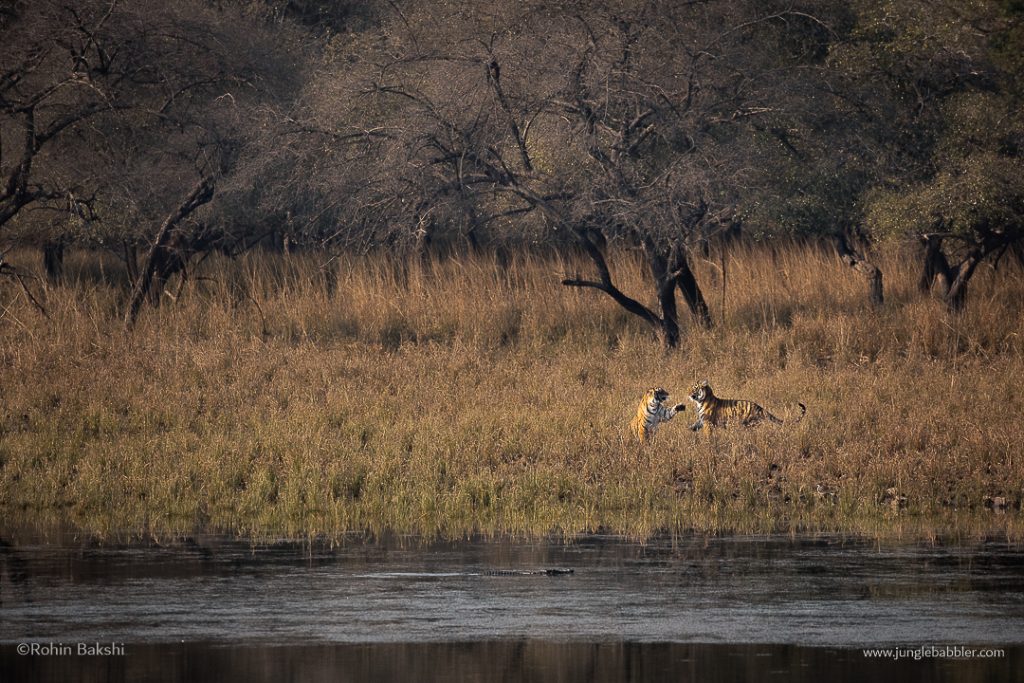 This moment was indeed very special. Over the next hour or so, while their mother let them be, we observed the two tiger daughters exploring their territory and exhibiting their developing feline characteristics.
We saw them lounging around lollygagging, exploring the grounds where they would soon make their first hunts, and showcasing their stalking instincts. They might not have been perfect at it yet, but there was that innate behavior that was clearly visible- bent heads, focussed eyes, stalking walks. They would slowly get better at it, and with the help of their mother, make their first kills in a few months, before they become independent.
As the cubs slipped into their afternoon siesta, we had to bid them adieu as Ranthambore rules don't allow for full-day vehicles to be in Zone 1-5 during the afternoons. But we would be back to see what they had in store for us during the evening time.
The afternoon wasn't half as bad either- we saw a massive
male tiger, Rocky Male (T58), feasting on a kill which he had stolen from a leopard who was only 50m apart, licking away the last taste of his meal from his whiskers. Yes, Ranthambore seemed to be on steroids that day! (We missed tigers Kumbha and Noor mating in the middle of the road by only a few minutes, FYI!)
We were back to Malik lake in the evening, and it did not take us long to find the cubs again. Arrowhead had now left to make a hunt, and the cubs were like any other teenagers when their parents are not home. They were active, and how- frolicking around and playing like over-sized kittens. At around 14 months of age, in a few months (typically between the age of 18-24 months), their fun games will turn into battles to gain a stronghold over the territory which their mother currently rules. It is around that age when the cubs separate from their mothers to be on their own. Their mother is however still pretty young, and it is less likely that they will be able to oust her from her territory. As a matter of fact, even as the cubs were playing when these images were clicked, if you look closely, the claws, though mostly hidden, were indeed sometimes out. These playful moments are not just about fun and frolic, it is also about asserting dominance over one another because very soon, these instances will turn aggressive until the two sisters part their ways.
Given the lineage of this family, seeing the events of the day unfold in front of us seemed like witnessing a natural history moment, and perhaps the tiger enthusiasts will agree. These two, nicknamed Riddhi and Siddhi, belong to the fourth generation of a royal family of tigers which has ruled the prime territory of Ranthambore Tiger Reserve. They are the great grand-daughters to Machhli (T16), grand-daughters to Krishna (T19), and daughters to Arrowhead(T84), a bloodline that speaks for itself.
There were instances during their playtime when one could see it was more than just play, it was about exerting dominance over each other, and clearly, one sister was overpowering the other, even going on to mark her territory in her mother's territory. I may not be an expert in tiger behavior, but I suppose that is something not very common for 14-month-old cubs! Playing today, they will soon battle for the claim to the throne, not just between themselves, but with their mother as well. Will there be a new queen of Ranthambore? Only time will tell.