"Do you know why chital deer and Hanuman langurs are best friends in the jungle?" Shaaz Jung, big cat specialist, and director at The Bison, asked us as we sat in excitement for our first jungle safari at Nagarhole National Park (also known as Rajiv Gandhi National Park, or simply Kabini). "Because they have a relationship of mutualism. They warn each other of approaching predators, and deer also feed on fruits dropped by langurs from treetops", he said pointing at deer grazing on wild berries. "My biggest focus today will be tracking leopards and tigers, but everything in this jungle is magical and I am going to show you as much as I can!" He jumped on the dashboard of the canter before he finished the last sentence and with his eyes squinting into the afternoon sun like a tiger on a trail of an unfamiliar scent, he began telling us about invasive lantana growth in the jungle and how black panther is not a different species but just a melanistic leopard. Sitting in that canter and watching Shaaz in his element, you understand that #SafariWithShaaz is more than just a trending hashtag on Instagram. It is an experience to live, learn, and cherish!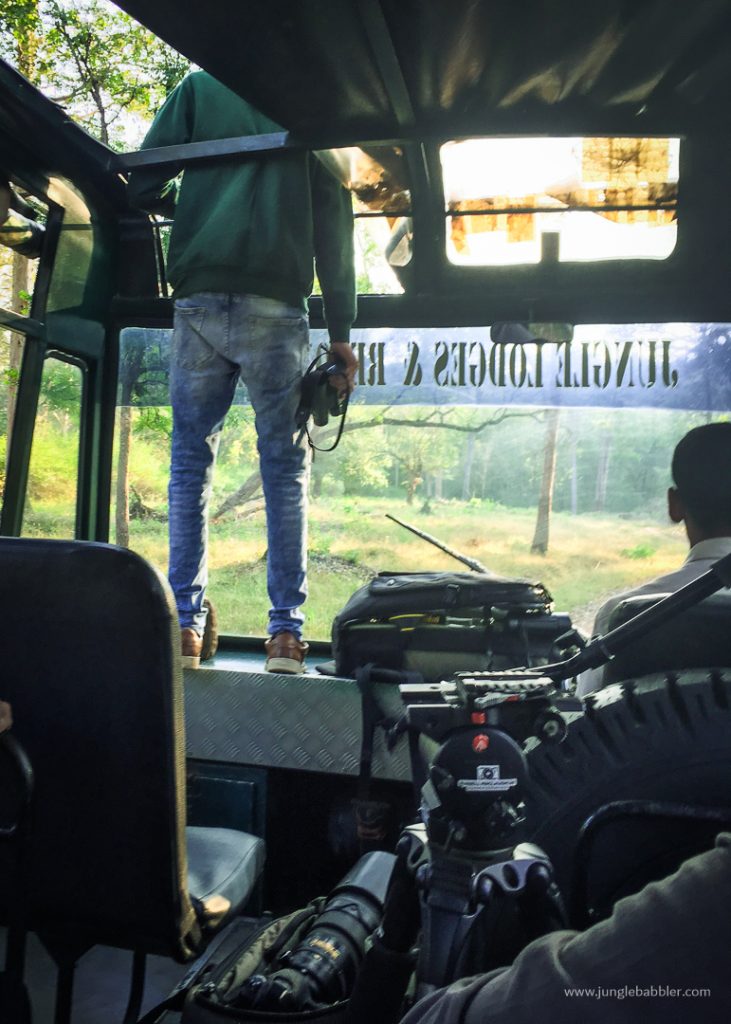 Shaaz is an occasional host at The Bison and we were lucky to streamline our trip with his availability. The Bison says he can be as elusive as a leopard and tracking him down can be difficult, but if you do, he is by far one of the most knowledgeable trackers and guides the area has to offer! We wouldn't disagree but what a run of luck for us because not only did we track down the elusive Shaaz but also his father Saad Bin Jung, former Indian cricketer and crusader for wildlife conservation; his sister Zoha Jung, horse-whisperer and founder at The Backwater Sanctuary, Mithun Hunugund, wildlife photographer and naturalist, and Russel MacLaughlin, wildlife film-maker who was filming a documentary on the black panther for National Geographic Wild at the time. The full monty, right? No wonder I am still as happy as I was that day because to me, the only idea of a "luxury holiday" is being in the company of people when I am just a fortunate observer. The delightful tales and freaky stories from Shaaz, Saad, Zoha, Mithun and Russel made my stay at The Bison truly luxurious, and of course, the gorgeous property perfectly backdropping this ecstatic banter!
The Bison sits beautifully on the fringes of Nagarhole National Park in the depths of South India where only birdsong interrupts the silence of the wild. Spread across a lavish five acres, the property brings African style of safari experience in India, brewing a unique combination of raw wilderness and fine elegance!
I recall it was the mellow winter of 2017 and we had reserved a Rustic Machan but were upgraded to Waterfront Luxury Tent (festooned with prestigious ratings from the likes of Tatler) that lies closest to the backwaters and offers a spectacular view of the exotic Kabini River. Inspired by East-African camps and old hunting lodges of the Raj, these ultra-luxe tents come with a king-sized bed, 7x6ft walk-in bathtub, tasteful interiors, and an outdoor verandah from where you can occasionally see elephants and other wildlife up-close. It's not uncommon to sometimes also spot rescued horses from Zoha's sanctuary cutting across the scenery and grazing along the backwaters. It's a massage for the eyes!
The food we ate at The Bison had both vegetarian and non-vegetarian options. It was delicious and with the warm hospitality from Vikrant, our host and manager, it tasted even better! He told us that most ingredients are sourced from neighboring villages and that leftovers are distributed to nearby tribal communities. He also mentioned that sundowners and bush dinners can be arranged or you can also lounge in complete privacy under a pool-side shack for a romantic candlelit dinner – The Bison's star activity!
Our 2-night stay at The Bison was totally worth the price we paid! The property was fancy as advertised and the guest experience we received was warm and exceptional. Sitting by the crackling fire, the family regaled us with their stories from both Kabini and Africa, of how a bull elephant once nearly upturned their vehicle and how a cheeky cheetah jumped atop their open jeep, leaving them completely stunned!
What we missed however is a big cat sighting, but did the small ones make up for it? I think yes 🙂 You'll find so many of these furballs inside The Bison jumping on sofas and bugging for your attention!
I miss these kittens and my wee staycation at The Bison! If you have a thirst for adrenaline-pumping wild but a taste for luxury, I'd say you grab a stay here with both hands! It's more than just a weekend getaway from Bangalore. Leaving you with some of our fabulous sightings from the trip and #SafariWithShaaz!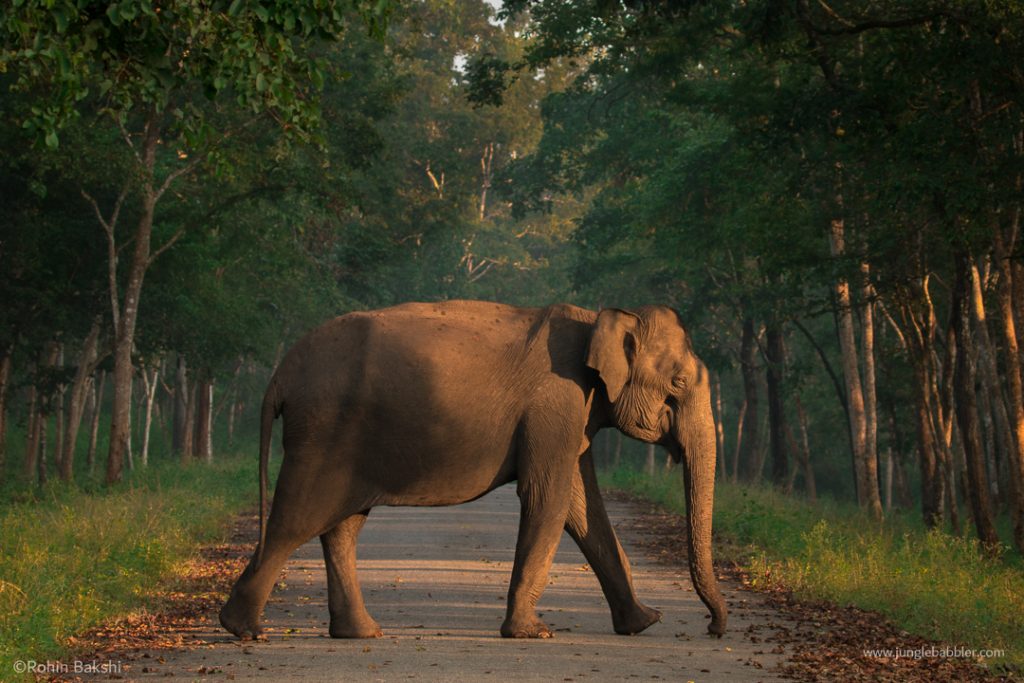 Know before you go:
How to get there: You can take a cab or self-drive (we booked a Zoomcar rental) from Bengaluru Airport (220 kms) or Mysore city (80 kms). Snaking your way through cattle, kids and sugarcane fields, you might lose the way- use GPS and follow directions given on the website
Languages: English, Hindi, Kannada
Mobile Network and Internet: All networks work fine, Airtel work best
ATMs: CCs are accepted but carry some cash too. Nearest ATM is at HD Kote (~30 kms from the resort)
Facilities and Activities: 
Jungle safaris and coracle rides

Visit to tribal villages, spoor tracking and angling with tribals

Trekking, bird watching, stargazing

Bush dinners, evening barbeque, campfire

Recreational facilities like backwater spa, swimming pool, library, observation deck, and bar
Not for you if: You are allergic to cats or think The Bison has a say in the way safaris are operated in Nagarhole National Park. Unlike most other parks in India where you choose and accordingly pay for the safari vehicle (jeep, canter, bus etc.), all safari vehicles in Kabini are controlled by Kabini River Lodge (JLR) and you get what is allotted to you by JLR at a standard fixed price you pay at The Bison.
Accommodation: Exclusive Tent (Little Bison), Full Waterfront Luxury Tents, Rustic Machans, Private Bush Tents, Suite Cottage
Bookings: Bernie: +91 7022155961, Vaishnavi: +91 8296601455, https://thebisonresort.com/