I remember how the air felt different when I landed at the Jomo Kenyatta International Airport, Nairobi. It was mid-March, so it felt somewhat chilly, but it also smelled 'wild'. So wild, I could already see cheetahs sprinting across the vast Mara plains and hyenas squabbling over a hefty carcass, lol! I must have been really eager and excited…
But also exhausted. Exhausted not just from the flight but also at the thought of an overland trip from the airport to Maasai Mara National Park (route so rough they call it "the African massage"). Not the therapy I wished for but well worth it because on the way, we made a short stopover at the Great Rift Valley viewpoint – a classic photo-op to admire the enormous, natural wonder running from Lebanon to Mozambique! Some say this is THE cradle of mankind where human race started out millions of years ago! Bit of a leap to believe you might say but Goshhh! It did feel primordial!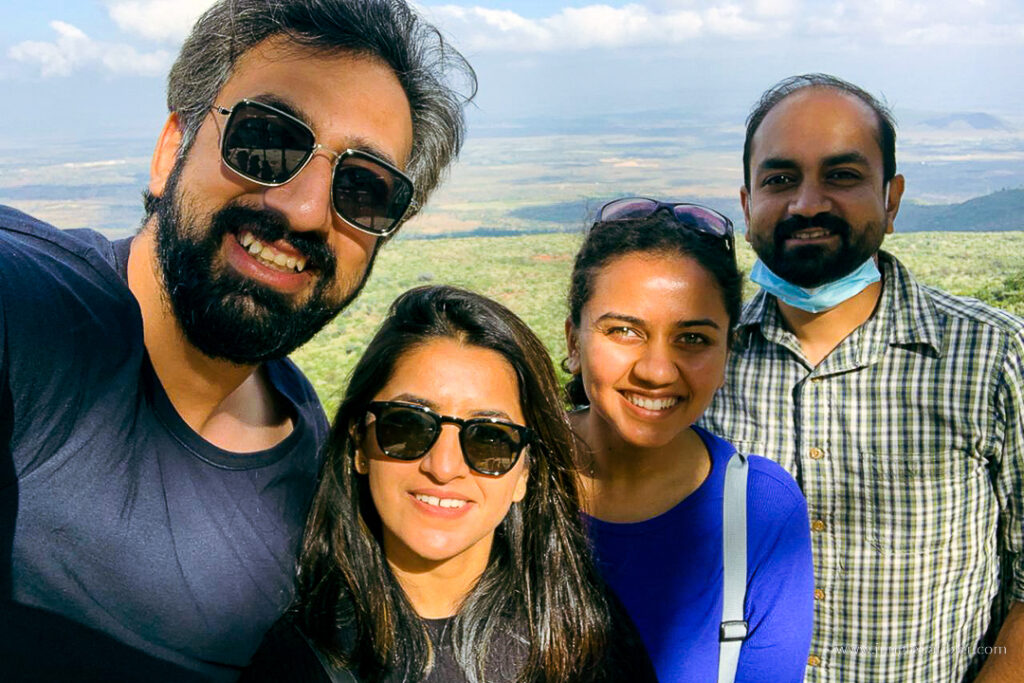 After a few more hours on the road, we were finally greeted into Mara Eden Safari Camp – a beautiful boutique property on the banks of the iconic River Mara.
I was drowsy and badly in need of sleep but no way we were letting go of an evening drive! So, we tossed our luggage in the tents and leaped into the classic 4×4 land cruiser waiting for us outside.
In no time, we were in the open. Nickson (our Maasai driver) skilfully flinging the vehicle around the bumpy Savannah, my eyes carefully searching and mistaking all faraway bushes for cheetahs, Bakshi and Nirav anxiously waiting for some action – Africa was happening and bam! Just then… we saw a group of vehicles jockeying for position. We knew there was something for sure but wait, did we just catch one of the strongest and biggest lion prides of Mara on our first game drive? Yes, we did 🙂 The formidable 'Topi Pride' (named after their dominion over Topi plains) comprising 7 gorgeous lionesses and 14 small cubs was lounging only a few metres from us! My God, the cubs were so tiny, they looked adorable and stupid; not a hint of the predator they were 😊
For over half an hour, they serenaded us with their playful antics. I especially remember a mischievous cub who couldn't find his mother in the pride. He'd go to all the lionesses one by one, smell them and return worried… till, at last, he found her napping in the corner! Of course he got a good scolding for breaking her siesta but as cute as it was, it was an extremely rare and special sighting, one I will cherish for a long time!
Later, we also spotted some elephants, buffaloes and a tower of giraffes. The African elephant, especially the bulls are massive! I was in awe, and this was just Day 0, whew!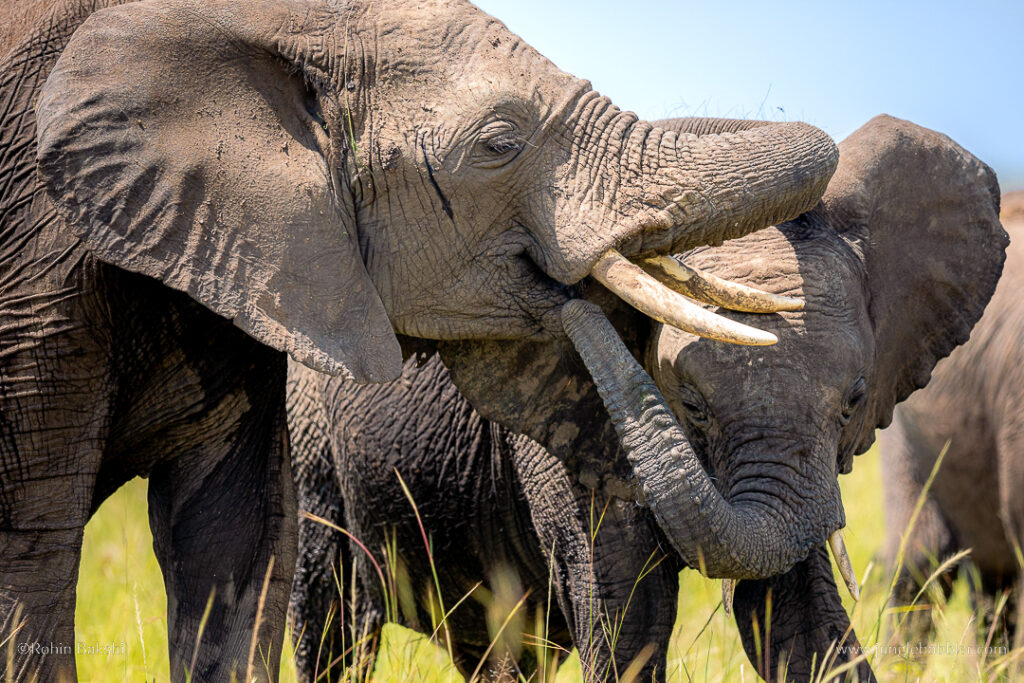 Back on the camp, the deck was set with bonfire and some soda! The staff ensured us comfort but also warned us of their resident hippo – Masikio, who was a regular guest in the common area. What?! A resident hippo??
I freaked out because I could also hear some grunting noises from the river behind me! The slightest rustle would alert me but soon the noises became loud and voila! We all saw him walking out of water, crossing us and disappearing into the lobby! My heart was beating out of my chest, and I couldn't believe we just saw a hippo walk past us INSIDE our camp!
Well, that's the appeal of Mara Eden – the property offers a safe 'armchair safari experience' where you can enjoy Mara's beautiful landscape and animals (hippos, hyenas, crocodiles and sometimes even a leopard) right outside your tent!
Next three mornings, we were woken up at 5:00 am and escorted into the lobby for coffee and camp's special cookies. Around 5.45 am, we would set out in search of promising subjects to place in front of the most surreal sunrises I've ever seen! Mara really gets dramatic with its quintessential, orange-yolk sunrises but it also acts pricey at times. We would wait hours and hours for a sighting! I especially recall waiting a full afternoon for a leopard to descend the tree, but he didn't.
His name was Splitnose and he had hoisted up a fresh impala kill on the tree in front of us. His rather timid cub, hanging on the other branch, was waiting impatiently for a bite. It was a funny sequence where the cub would repeatedly inch forward but was aggressively shooed away by the feisty father! That day was a lesson on patience for both of us and while the cub got his share later, we were also rewarded 😊
Dejected when we left the spot, Nickson received a tip-off about a black male rhino nearby. Ariba shrieked! She was most excited to see a rhino in the wild. We all were! Spotting the rhino meant we had hit the ultimate Mara safari jackpot! And we were so happy that when we finally reached the spot, he was still there, grazing nonchalantly… We immediately rolled up the tarps for good visibility and exchanged excited hi-5s because now we'd seen the legendary Big Five of Africa (lion, leopard, elephant, buffalo and rhino)! Not just that, next morning we spotted a female rhino and a calf in the bushes!! They were deep in the thicket, but we did catch a glimpse. A glimpse of an extremely hard-to-sight endangered mammal, in low season, on a day when heavy thunderstorms were predicted by all weather apps! What more could I ask for? 😊
In the next two days, we were extremely lucky to see small hyena pups learning the ways of life, the famous cheetah coalition – 'Tatu Bora' dashing across like F1 drivers, a beautiful, young leopardess, Bella, hiding her kill from other predators and most importantly, the Indigenous Maasai tribe demonstrating their simple but extraordinary lives!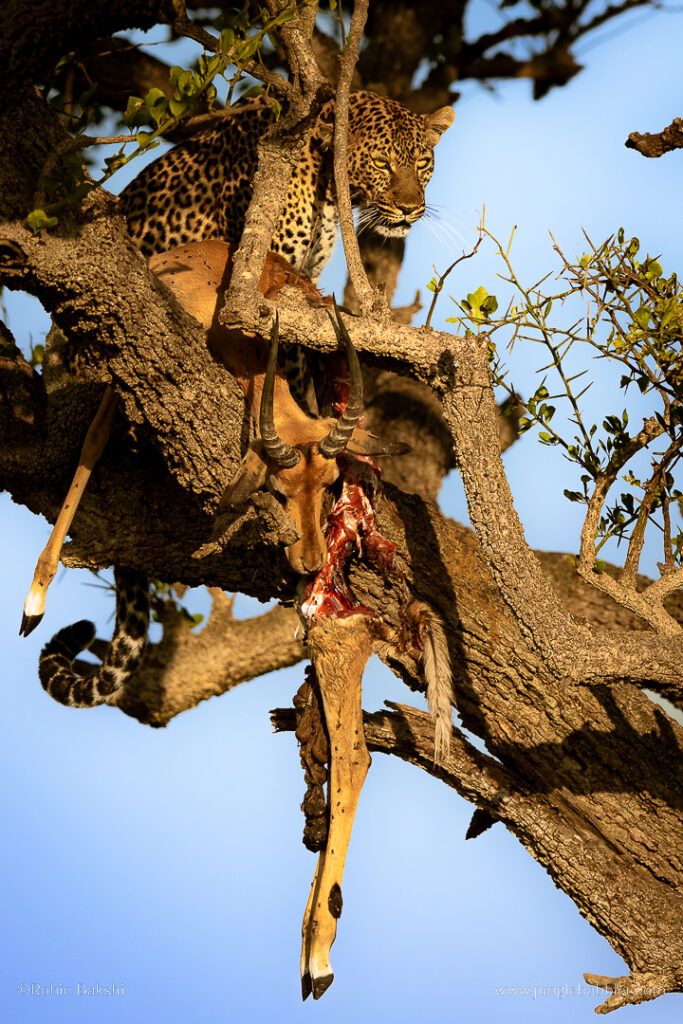 Kenya was both brutal and tender…exactly how I imagined it to be! I think Will Smith was right when he said "It feels like God visits everywhere but lives in Africa" 😊